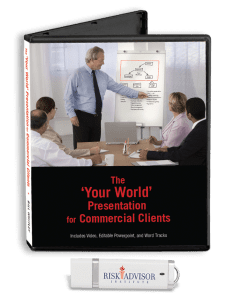 The 'Your World' Presentation for Commercial Clients
Presentation tools for meeting with commercial clients and helping them uncover key risks and build a wall of protection around their business
Product Description
Would you like to have the same wonderful discovery conversation with commercial clients that you are having with your personal clients?
The commercial version of 'Your World' covers the three biggest risk areas that all business owners face and teaches owners how to build a wall of protection to protect against them. Best of all, you can move effortlessly from commercial to personal; for example, if a business owner says, "Thank you, no one has ever made business insurance this easy to understand," you can say, "You're welcome, and I'll be more than happy to have this conversation with each of your executive on a personal level to make sure they are covered as well."
The presentations tools include:
1) Video instruction of how to conduct a face-to-face Commercial 'Your World' Appointment
2) Editable Powerpoint Presentation with the Commercial 'Your World' Diagram as a build to use with your commercial clients
3) Written script of the 'Your World' Commercial Conversation so that you have every word track at your fingertips in order to practice and learn the Commercial 'Your World' Conversation.
Only $147
Complete satisfaction guaranteed or your money back.
Qty: